Terse Silk Pillowcase With Hidden Zipper
You Need a Silk Pillowcase Now
People spend 1/3 of their lives in contact with pillows. Do you know how dirty the pillows you sleep every night? Dust shed from human skin is the food source of dust mites. Pillows are a breeding ground for dust mites that feed on fungi and dust shed from human skin. There can be as many as millions of dust mites on a pillow, which is one of the causes of sensitive skin and acne-prone skin.
It' time to ditch your long used, dust mite breeding cotton pillowcase!
RachelSilk now upgrades your beauty sleep kit with this Limited time offer: buy 1 pillowcase, get 1 free silk eye mask!
4 Reasons Why You Should Choose a Silk Pillowcase
Naturally Hypo-allergenic Mites RepellerOne, silk is made by silk worms to protect them from outside harm during their cocoon phase, the sericin contained in silk prevents the invasion of mites and dust efficiently. Therefore, it can effectively prevent the breeding of mites and is friendly to sensitive and acne skin, relieve scalp itching.
The Smoothest of All Natural FibersTwo, silk is very soft and smooth, and its friction coefficient is the smallest of all natural fibers, only 7.4%. It reduces wrinkles and prevents hair from frizz and split-ends.
Absorptive of Moisture and BreathableThree, silk-fibroin in silkworm is capable of absorbing and transpiring sweat or moisture, it can keep your skin hydrated, keep you cool in summer and warm in winter.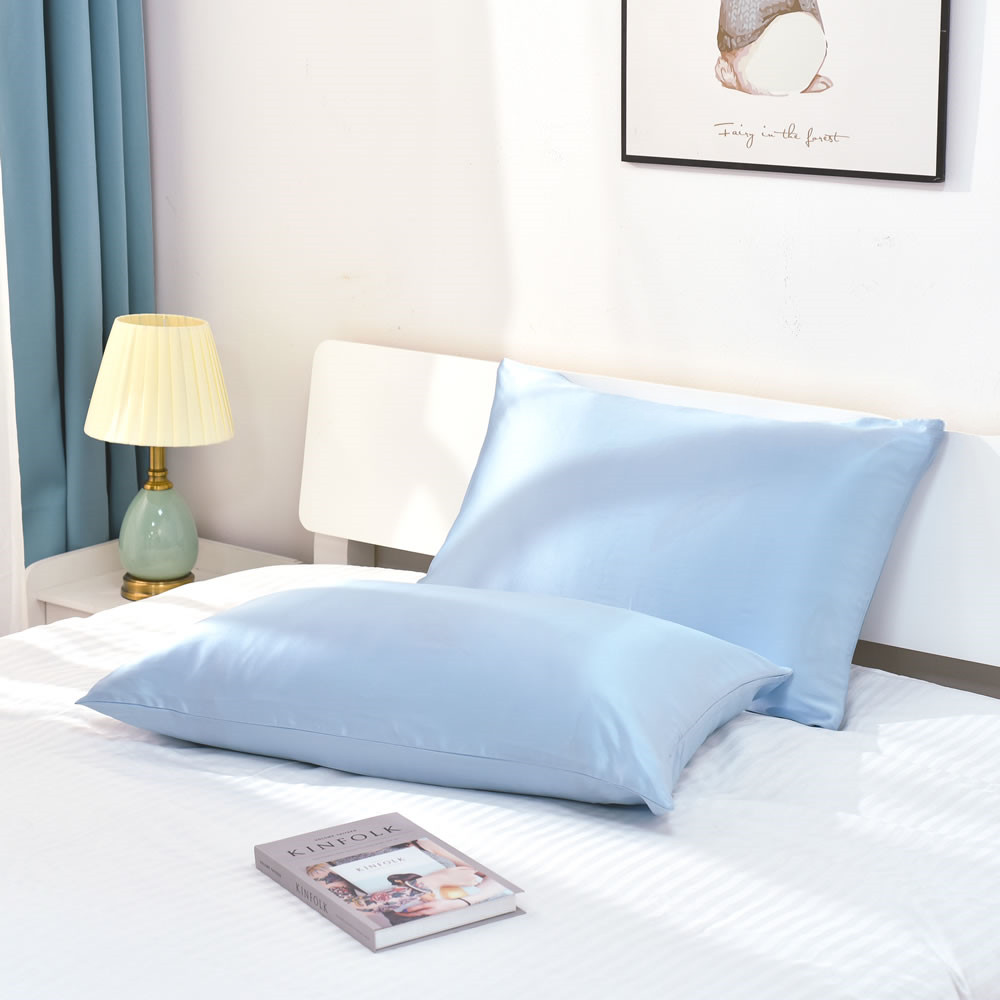 Anti-aging Skin NourishmentFour, Pure mulberry silk is composed of animal protein containing 18 essential amino acids, which is known for its effectiveness in skin nourishment and aging prevention.
Product Details
The terse style features a simplistic flange-less design with a hidden zipper closure, for those who like to put their hands under their pillowcases when they sleep.

The high protein content of silk makes silk much kinder to the skin with little to no friction due. Matching color zipper.
Product Features
| | |
| --- | --- |
| Fabric | Grade 6A, 100% Mulberry Silk, 19 Momme Silk Weight |
| Style | Hidden Zipper At The Side, no flange |
| Sizes | Standard (20''x26''), Queen (20''x30''), King (20''x36'') |
| Thread Count | 400 |
| International Certification | OEKO-TEX Standard 100, Safe, eco-friendly and non-toxic |
100% Risk-free Shopping
With fast delivery and easy money back, it costs nothing to try.
We Use Highest Grade 6A Mulberry Silk
Silk fibre comes in varying lengths; from short to long – from 1A Grade to 6A Grade. 6A Grade Silk is made from the longest silk fibres available – it is the highest grade that exists. This makes the material much more luxurious and durable than lower grade silks.
OEKO-TEX® Certified
Truly organic, safe for you, for the family and the planet.
STANDARD 100 by OEKO-TEX® is one of the world's best-known labels for textiles tested for harmful substances. It stands for customer confidence and high product safety.
No matter beddings or sleepwears, Rachelsilk's products own the OEKO certification and are safe and healthy for your skin.