Enjoy The Luxury Of Silk
This silk bonnet is simply designed with frills, it helps to protect your hairstyle and maintain its shine, allows your expensive hairstyles to glide over the pillow and retain their shape.
This silk bonnet for sleeping minimizes the friction between your hair and the pillow, which helps to prevent your hair from breaking or developing split ends or tangles while sleeping.
This silk bonnet helps to relieve common allergic reactions, such as itchy skin.
It is durable and stylish, it'll be one of your best companions while traveling as it is small enough to slip into your travel bag with ease.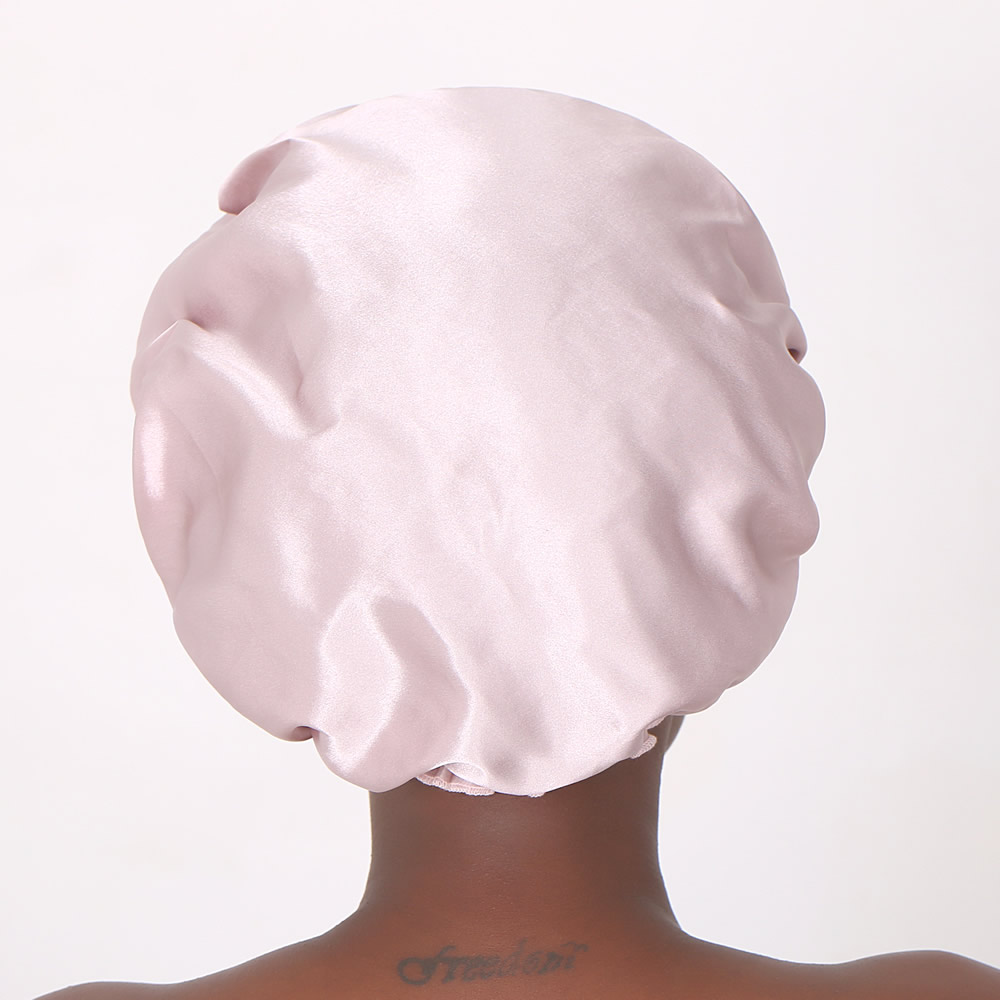 Product Details
Made of 100% 19 Momme Grade 6A Mulberry Silk.
Two sizes, Medium Size fits most people, Extra Large for extra long or thick hair.
Cute simple design with frills. Elastic band inside.
Product Features
| | |
| --- | --- |
| Fabric | Grade 6A 100% pure mulberry silk, 19 momme silk weight. |
| Style | Elasticated around the head band for slip-on, slip-off ease. |
| Sizes | Two sizes, Medium Size fits most people, Extra Large for extra long or thick hair. |
| International Certification | OEKO-TEX Standard 100, Safe, eco-friendly and non-toxic |
Why Do I Need a Silk Bonnet?
NOT ALL THE BONNETS ARE MADE OF PURE MULBERRY SILK.
Our silk bonnet is made of 100% mulberry silk which contains 18 amino acids.
It will keep your hair moisture and smooth, sleeping with a silk cap means no more split ends and frizzy hair.
It protects your hair from dryness and friction between your hair and moisture-absorbing materials such as cotton or satin. This also helps to greatly reduce breakage and tangling.
100% Risk-free Shopping
With fast delivery and easy money back, it costs nothing to try.
Best Prices & Quality

We cut the middleman and keep the price as low as possible for our customers with the best quality.

Free Shipping & Complimentary Gifts

We ship worldwide and you can enjoy free delivery on all orders $50+; Free shipping with no limitation & complimentary gifts when we have promotions.

Easy Money-back Guarantee

It costs nothing to try and fall in love with silk. If you don't like it, simply send it back.
We Use Highest Grade 6A Mulberry Silk
Perfect shape. Silk strand is uniform and long.
Silk fibre comes in varying lengths; from short to long – from 1A Grade to 6A Grade. 6A Grade Silk is made from the longest silk fibres available – it is the highest grade that exists. This makes the material much more luxurious and durable than lower grade silks.
OEKO-TEX® Certified
Truly organic, safe for you, for the family and the planet.
STANDARD 100 by OEKO-TEX® is one of the world's best-known labels for textiles tested for harmful substances. It stands for customer confidence and high product safety.
No matter beddings or sleepwears, Rachelsilk's products own the OEKO certification and are safe and healthy for your skin.